Test Chamber: puzzle app for ipad, iphone
A lot of folks have been talking about Test Chamber. It appears to be a sokoban type puzzle. But it's much more.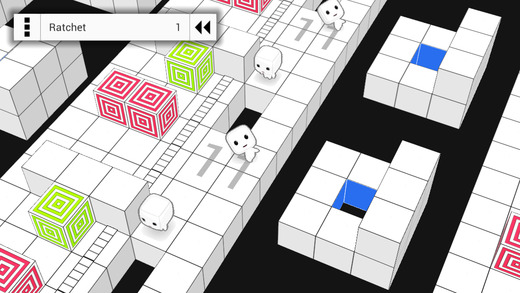 The goal is to push the cube into the blue hole.
First of all, each level has a unique AHA element. There's also the very cool wrap-around world, which at first seems unnecessary.
I'm stuck on level 17. Without a doubt, Test Chamber is in the running for a PAGY Nomination. Check back on December 30.
https://itunes.apple.com/us/app/test-chamber-mind-bending/id955684188?mt=8

The Best iphone, ipad Puzzle Apps and Mechanical Puzzles
Tags: 'test, Chamber, ipad, iphone, puzzle
This entry was posted on Friday, June 30th, 2017 at 7:52 pm and is filed under IOS Apps. You can follow any responses to this entry through the RSS 2.0 feed. You can leave a response, or trackback from your own site.