Posts Tagged 'Monkey'
Ten monkey challenge comes from Miroslaw Zielinski. He's been publishing a lot of puzzle app the past couple of years. See list below.
The object in today's game is to score point by placing tiles from the bottom to the grid and make 10 either horizontally or vertically. At the beginning, all tiles are simply 1×1 and it's easy. Very rapidly, the tiles become 2×1 and 2×2 (minus 1 square).
A flaw in this game is when a 2×2 (minus 1 square) pops up with two 6′s and a 5. No matter how perfectly you have played the game, that tile signals the end is very imminent.
At the moment, there are just 11 players on the Leaderboard. My score is 295, which I think is pretty good. But somebody has over 500, which I think is exceptional.
https://itunes.apple.com/us/app/ten-monkey-challenge/id1303911111?mt=8
http://www.twohandslab.com/
Other games from Miroslaw Zielinski
Tower Locked
Circles Galaxy
Tomb of the Brain
Color Square Puzzle Game

The Best iphone, ipad Puzzle Apps and Mechanical Puzzles
Huebrix came out in 2012 but was recently listed as newly free on Apps Gone Free. It's a puzzle app game where the objective is to fill the grid with ribbons.
The 2 diagrams above show the basic premise. However, it gets very sophisticated.
Very Interesting:
1. Plus and minus signs: A plus sign may have a 4 on it. That means, if your purple ribbon goes over it, its length will increase by that amount.
2. The X. A ribbon can land on it, but that's where it must end. Some levels have an equal number of X's as ribbons. But not all.
3.The side portals: They act like wormholes, but they're always on the outer edges of the puzzles.
There are 400 levels, which is way too many. At the moment, I've solved about 100 levels at various levels of difficulty, including 'insane'.
https://itunes.apple.com/us/app/huebrix-twisted-puzzle-space/id543812828?mt=8
The object in Socioball is to place various tiles onto the board so that the blue ball will get to the blue square.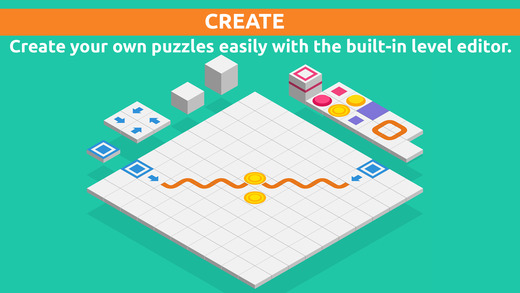 The various tiles include orange curves, a high wall, small trampoline, big trampoline, red button that activates the red block, and the red block.
There are about 61 levels by my count and they can get tricky. But many are obviously too simple. For example, a level may have only 3 blank spaces in the grid. Which means, without even thinking, there are 6 permutations.
At the moment, I've solved about 40 levels.
https://itunes.apple.com/us/app/socioball/id928965297?mt=8

The Best iphone, ipad Puzzle Apps and Mechanical Puzzles