Posts Tagged 'Ballz'
Last week I saw somebody playing Ballz game on the subway. Coincidentally, a student recommended it to me the next day. The game is reminiscent of Breakout, which came out in the 1970′s. Read this article from Wikipedia.
So what's different?
1. Each box gets a number. The box will disappear when it's hit that number of times.
2. Look at the first image. See the white dot on top? If you can collect it, that will increase the number of ballz that you will fire in the next round.
3. I haven't figured out what the green dots are for.
I've played this about 25 times. My high score is 99. That ranks me somewhere around 4 million out of 6 million on the Leaderboard.
Good game. It's free. The graphics are outstanding. But I will not get addicted to this. Ketchapp has a string of good games!
https://itunes.apple.com/us/app/ballz/id1139609950?mt=8

The Best iphone, ipad Puzzle Apps and Mechanical Puzzles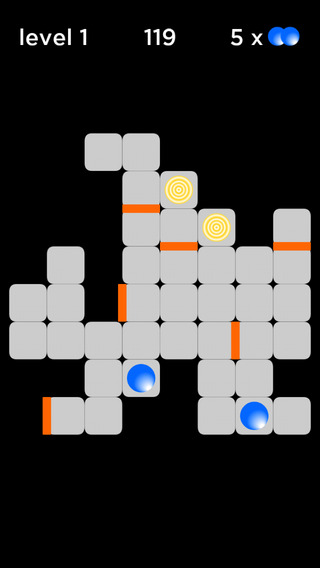 'One of the hardest ability and logical games that you ever seen. Use finger swipe to drive the two balls at the same time to their destination avoiding that any of them falls to the vacuum.'
My opinion: the puzzles are good, but having to start over at level 1 is beyond annoying.
Last night I restarted the game at level 1 and wondered: how many levels are there? With 1 life to spare, I completed all 23 levels. 'More are coming soon.' Yeah, well, if and when they come, will I have to start at level 1 again?
Better games with the same idea: Double Maze, Grid Blox and Duality which is outstanding.
https://itunes.apple.com/app/id957179953

The Best iphone, ipad Puzzle Apps and Mechanical Puzzles
La Palette Color Ballz comes from Nadezhda Sidorova. (I've always liked the name Nadezhda.) It's a 'match-3′ game. There are hundreds of match-3 games. The most famous: Bejeweled and Candy Crush.
I normally ignore match-3 games. But I decided to download this only because I love the icon.
The actual game itself is pretty good. First of all: colors mix. Second: the whites never match-up.
There are other elements, borrowed from Candy Crush, but that's okay.
La Palette Color Ballz has a lot of charm. There are 61 levels and at the end of each, you are rewarded with a quote. For example: don't blame the rain, it can't fall up.
https://itunes.apple.com/us/app/la-palette-color-ballz/id1292038750?mt=8
https://lapalette-game.com/
https://play.google.com/store/apps/details?id=com.sidorova.lapalette&hl=en&pcampaignid=MKT-Other-global-all-co-prtnr-py-PartBadge-Mar2515-1

The Best iphone, ipad Puzzle Apps and Mechanical Puzzles