Sweet Drmzzz by Bart Bonte $.99
All of Bart Bonte's games are fun. Sweet Drmzzz came out in 2014 but was updated last year.
50 puzzles include a little bit of everything. Rockets have to be steered to collect the yellow stars while avoiding the red stars and red rockets.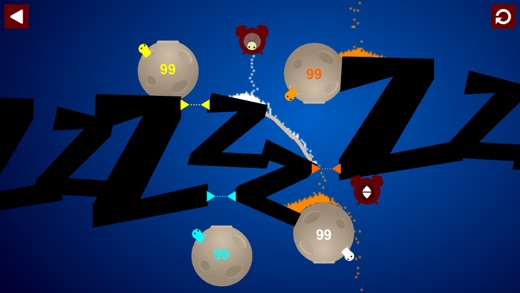 Sand has to be funneled to containers. (Zen Sand from 2013 is only this type of puzzle and also very good.) Very interesting: in Bart's game, the sand can flow upward and downward.
I think I've played Bart's other games for free. So I was happy to shoot him a buck.
At the moment I'm stuck on level 26.
There's a lot of charm to these puzzles.
https://itunes.apple.com/us/app/sweet-drmzzz/id924000453?mt=8
http://www.bontegames.com/


Other Bart Puzzles:
What's Inside the Box?
Factory Balls - excellent
Boo! - a mini sequel to Factory Balls
Blocky XMAS - fun and at times hard
Yellow (game)
red (game)

The Best iphone, ipad Puzzle Apps and Mechanical Puzzles
Tags: $.99, Bart, Bonte, Drmzzz, Sweet
This entry was posted on Thursday, February 1st, 2018 at 7:04 pm and is filed under IOS Apps. You can follow any responses to this entry through the RSS 2.0 feed. You can leave a response, or trackback from your own site.