Nodulus by Dan Kondratyuk FREE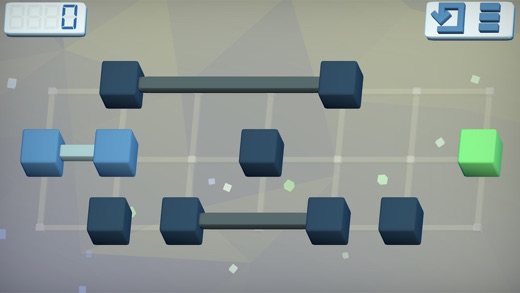 Have you ever played ThinkFun's River Crossing Puzzles? It started a new genre of puzzles known as Plank Puzzles. The object is to pick up logs and use them over the stumps to create a new path to the other side of the river. Read more here.
Dan Kondratyuk's Nodulus is essentially the same thing, but with cool graphics.
There are 20 levels and they get pretty tough. I solved the first 13 levels. More levels are coming as other players create their own.
https://itunes.apple.com/us/app/nodulus/id1294238868?mt=8&ign-mpt=uo%3D4
https://play.google.com/store/apps/details?id=com.hyperparticle.nodulus&pcampaignid=MKT-Other-global-all-co-prtnr-py-PartBadge-Mar2515-1
hyperparticle.com
Spin Mix is an old game from 2012 that's related. It's no longer available, which means that you should download good games when I tell you to.
How it's different:
1. The object is to get the specific plank to the double circle target.
2. All planks can be swiveled at any time.

The Best iphone, ipad Puzzle Apps and Mechanical Puzzles
Tags: free, Kondratyuk, Nodulus
This entry was posted on Tuesday, November 7th, 2017 at 11:48 pm and is filed under IOS Apps. You can follow any responses to this entry through the RSS 2.0 feed. You can leave a response, or trackback from your own site.