MindRoller by Christian Nadeau Free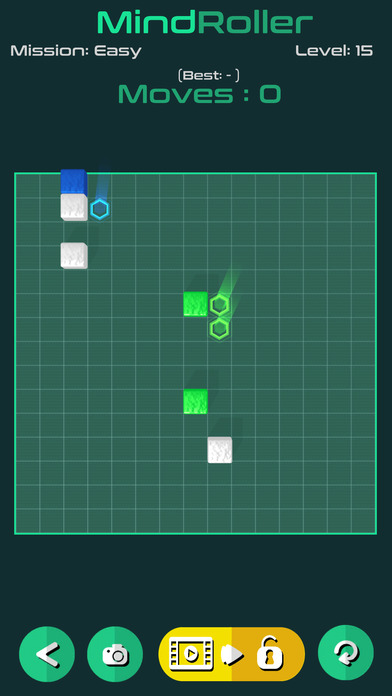 MindRoller comes from Christian Nadeau. It's one of the games where 'all the pieces move together' and the objective of course is to get all the squares to their targets.
There are 96 levels and I've solved about 55 of them. MindRoller is certainly not a new concept. But what I like about this game is that the levels are very well designed and the grid is so large.
What I don't like is that you need to get 3 stars for every level in order to advance.
https://itunes.apple.com/us/app/mindroller/id1191610021?mt=8
Similar games (this list is incomplete):

Movez Pretty much the same as Block Mania but it has 1680 levels. I've solved 592 of them. That's probably enough.
Frozen Ice Cubes What's different: there's a point of 'no return'.
Escapology, reviewed by Nicola Salmoria. He told me about this game ages ago. I played it and enjoyed it, but never blogged about it.
Block Mania Similar to Movez
Move Puzzle – A Funny Strategy Game, Matching Tiles Within Finite Moves
Zink
Vubu What's different: the vubu men have different powers. Very sophisticated, very intelligent. Possibly the very best in this genre.
Move: A Brain Shifting Game
Unmind

The Best iphone, ipad Puzzle Apps and Mechanical Puzzles
Tags: Christian, free, MindRoller, Nadeau
This entry was posted on Sunday, July 8th, 2018 at 10:44 pm and is filed under IOS Apps. You can follow any responses to this entry through the RSS 2.0 feed. You can leave a response, or trackback from your own site.