Jelly Doods Puzzle by Ankit Kanjariya Free!
Jelly Doods Puzzle comes from Ankit Kanjariya. It's a 'slide the pieces until they stick' type puzzle app game.
There is a limit to the number of moves in order to get 3, 2 or 1 stars.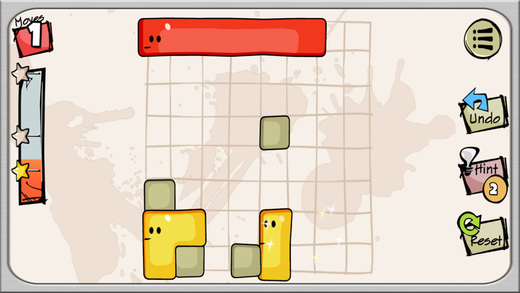 There are 50 levels and the difficulty is perfect. I've gotten stuck numerous times
The graphics are charming.
https://itunes.apple.com/us/app/jelly-doods-puzzle/id1191333220?mt=8
Other Very Good Puzzles that have a sticky element (not quite the same though):
Denki Blocks
I believe this was the original puzzle app that introduced this concept.
Tile'M All
This version is crazy hard.
Jelly SlideBlockoban - a must have
Impossibru's Blockoban
Move on Green
Blocky Xmas
Jelbreak

The Best iphone, ipad Puzzle Apps and Mechanical Puzzles
Tags: Ankit, Doods, free, Jelly, Kanjariya, puzzle
This entry was posted on Thursday, January 4th, 2018 at 7:09 am and is filed under IOS Apps. You can follow any responses to this entry through the RSS 2.0 feed. You can leave a response, or trackback from your own site.