Fireman Arcade Puzzle: free puzzle app game for iphone, ipad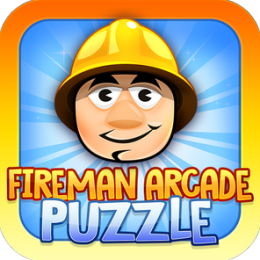 Fireman Arcade Puzzle is a sokoban type puzzle. The object is to get the firemen who aren't wearing sunglasses onto the stars. They can push other firemen out of the way.
What's different? They can push more than 1 fireman at a time.
There are 24 levels and I've done them all. I must confess, a few of them were tricky.
Sorry, I couldn't find the iTunes link. I got the one image from the nook app store. The image at the bottom was my reward for solving them all.
One thing that's very annoying is the same ad that pops up 3 times after each level. I've already deleted this game.


The Best iphone, ipad Puzzle Apps and Mechanical Puzzles
Tags: arcade, Fireman, free, game, ipad, iphone, puzzle
This entry was posted on Tuesday, May 29th, 2018 at 8:09 am and is filed under IOS Apps. You can follow any responses to this entry through the RSS 2.0 feed. You can leave a response, or trackback from your own site.