English Country Tune by increpare $.99
English Country Tune came out in 2011 and I didn't learn about it until about a year ago.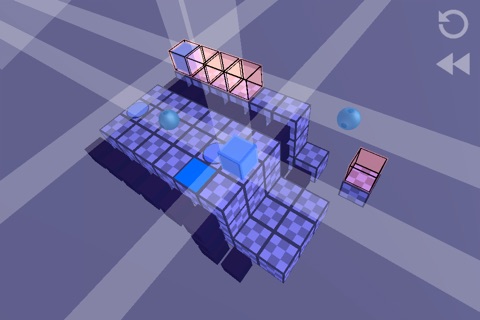 The game is similar to sokoban. The first series of of puzzles introduces a 3D field where the object is to push balls onto their targets. Gravity is a factor, which means a ball can travel far. What makes it confusing is that gravity does not necessarily work in a consistent direction. It depends on the orientation of Your Man moving the individual balls. I was stuck on one level forever. Until this weekend when I thought about finding a solution via a youtube walkthrough.
My favorite section of puzzles is the one depicted in the first image. Your Man does not push the actual cubes. Rather, Your Man pushes the horizontal & vertical light beams that emanate from those cubes. Fantastic concept and challenging and fun.
I slowed down considerably on the more advanced levels, primarily because of the 3D graphics.
https://itunes.apple.com/us/app/english-country-tune/id476962614?mt=8
http://www.englishcountrytune.com/
Not available for android devices.

The Best iphone, ipad Puzzle Apps and Mechanical Puzzles
Tags: $.99, Country, English, increpare, Tune
This entry was posted on Monday, September 11th, 2017 at 3:40 pm and is filed under IOS Apps. You can follow any responses to this entry through the RSS 2.0 feed. You can leave a response, or trackback from your own site.