Colorzam by Pedro Navarro FREE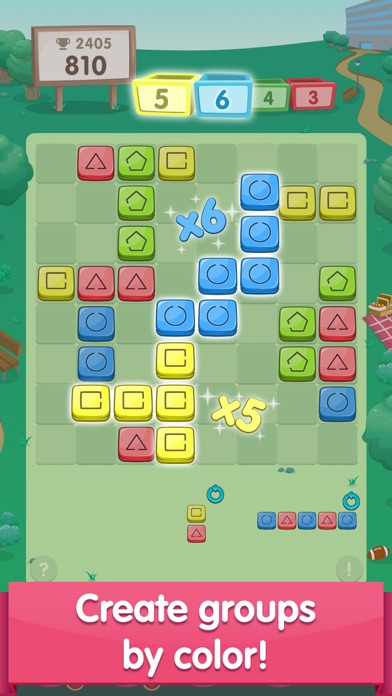 Colorzam comes from Pedro Navarro. It's a point scoring puzzle app game. Your task is to place the pieces at the bottom onto the grid to form groups. Look at the first image. See the red 3 on top? When you've gotten 3 reds, they disappear. The next goal for red will be 4, then 5. When 5 reds are grouped, all of the other reds on the board come off.
As your score increases, 'boosters' become available to get you out of a jam.
Colorzam has great graphics. Love the concept too. However, this game just never ends. It's too easy. I had to intentionally lose. I tried to end my game at 50,000, but I went over just a bit. That places me 1st on the Leader Board out of just 12 others. A few months ago I reviewed another point scoring game that was similarly too easy to lose called 5+ (five plus) and it has maybe 30,000 people playing it. So obviously games of equal skill/value/fun are not marketed in the same way.
If Colorzam used 1 extra color, it might be perfect. Alternatively, instead of all the tiles of a color disappearing when a group of 5 is formed, 6 would be more challenging.
https://itunes.apple.com/sl/app/colorzam/id1261918300?mt=8
Announcement: Open Bar – Keep 'em Coming! is temporarily free.
Other Point Scoring Games Worthy of Your Time (Some are no longer available.)
NumberMania
Four Straight Lines
Pushopolous
Stickets
Folt
Nineout
Nineout II
BeeCells Lite
Kindly Colors
HexAgony
Domino Drop
Put Number
Tripevo
Triple Town
Kindly Colors
COLORswipe
SubaraCity
Virus Pop Smash
+1 Number
4 Way Puzzle
Merged!
Enso
Politaire
Treple
numDance
Black Boxes
Buckets
Hit N Run
Puppo!
Omino!
Super Swipes
Make Square

The Best iphone, ipad Puzzle Apps and Mechanical Puzzles
Tags: Colorzam, free, Navarro, Pedro
This entry was posted on Wednesday, September 27th, 2017 at 6:39 pm and is filed under IOS Apps. You can follow any responses to this entry through the RSS 2.0 feed. You can leave a response, or trackback from your own site.