Causality by Loju $1.99
Causality comes from Loju and was featured prominently by the App Store Editors.
The object is to get the astronauts to their portals.
* They mustn't bump into each other.
* Arrows must be rotated.
* There's a limited # of moves.
* Portals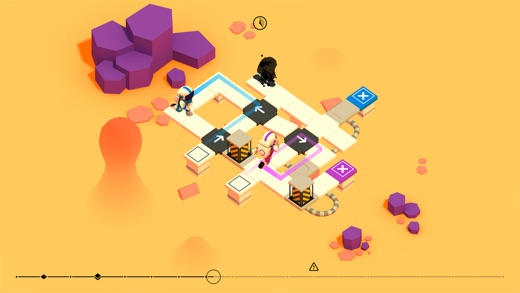 What's most interesting is that there's a time-travel component.
There's a clunky element that's a bit annoying: every step of the journey must be swiped singly.
I can see people really getting into this game. But I'm not feeling it.
I've solved about 15 of the 60 levels.
Lojo made another game Transmission which I reviewed about 2 years ago.
https://itunes.apple.com/us/app/causality/id928945016?mt=8
https://loju.co.uk/

The Best iphone, ipad Puzzle Apps and Mechanical Puzzles
This entry was posted on Thursday, September 7th, 2017 at 12:27 am and is filed under IOS Apps. You can follow any responses to this entry through the RSS 2.0 feed. You can leave a response, or trackback from your own site.