Buckets: A Puzzle Journey by Jeffrey Quach Free!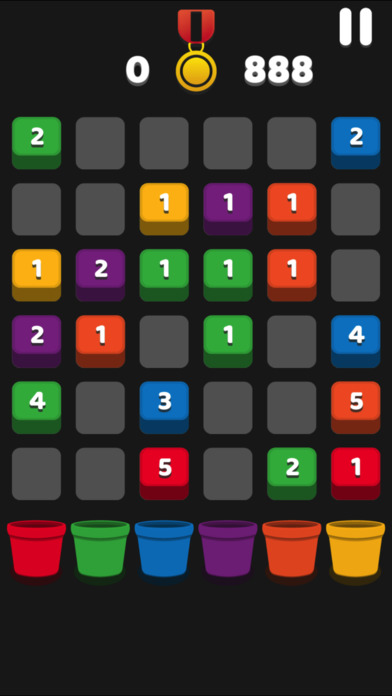 Buckets: A Puzzle Journey by Jeffrey Quach is yet another in a series of very good point-scoring-puzzle apps.
The object is to slide the tiles row by row or column by column to line up the tiles to go into the buckets. After every move, a new tile is placed randomly. However, if you score points, no new tile is added.
There's no rush. Patience is critical. A single game could last a very long time. My high score is 851, but it didn't make it onto the Leaderboard. But that's okay. I really like the graphics.
Definitely download this and get on the Leaderboard. There's a definite addictive feel to it.
https://itunes.apple.com/us/app/buckets-a-puzzle-journey/id1180455700?ls=1&mt=8
http://beanpolelabs.com/
https://www.youtube.com/watch?v=2AHqTGh4vaA
Other Point Scoring Games Worthy of Your Time
NumberMania
Four Straight Lines
Pushopolous
Stickets
Folt
Nineout
Nineout II
BeeCells Lite
Kindly Colors
HexAgony
Domino Drop
Put Number
Tripevo
Triple Town
Kindly Colors
COLORswipe
SubaraCity
Virus Pop Smash
+1 Number
4 Way Puzzle
Merged!
Enso
Politaire
Treple
numDance
Black Boxes

The Best iphone, ipad Puzzle Apps and Mechanical Puzzles
Tags: Buckets, free, Jeffrey, Journey, puzzle, Quach
This entry was posted on Friday, December 8th, 2017 at 7:02 am and is filed under IOS Apps. You can follow any responses to this entry through the RSS 2.0 feed. You can leave a response, or trackback from your own site.